Lunch & Learn Sessions
Ready to join our upcoming October 22, 2018 program? Please call 705-637-0239, extension #1 or contact us here
Working and want to know more about a Plant Based Lifestyle?
Are you thinking about a healthier lifestyle but just don't know where to start?
We've got the time for you! Our new 4:00 class is here to fit your work day! Call and register for your spot!
Maybe you've been to "Lunch & Learn" in the past and are looking to join us again for a "refresh and reboot" to get you back on track?
Here's how the Lunch & Learn Session works…
Each day during the weekly hour-long session at Williams Cardiology in Bracebridge, Dr. Shane Williams gives a concise presentation on the science behind heart-healthy plant-based eating, current health topics and a question and answer period.
The classes are not lectures – but lively discussions & presentations – and there are no demands put onto the participants other than to come with an open mind.
Dr. Williams will guide you towards improving your health by eating plant-based. In doing so, many of our participants have reported weight loss and reductions in medication, joint inflammation and insulin required for diabetes.
To help you explore healthier eating, a complimentary plant-based meal prepared by local restaurants & chefs is provided at each class along with the recipe.
The program also includes bonus Cooking Sessions that take place at the Independent Grocer in Bracebridge where a local chef or guest chef from the Greater Toronto Area will prepare 4-5 recipes in front of you and then you sample each one! All this at no charge to you! Pre-registration is required.
The new Lunch  & Learn Sessions start on October 22, 2018.
We just added a 4:00 class starting in October!

Classes are FREE! Please see below for more info…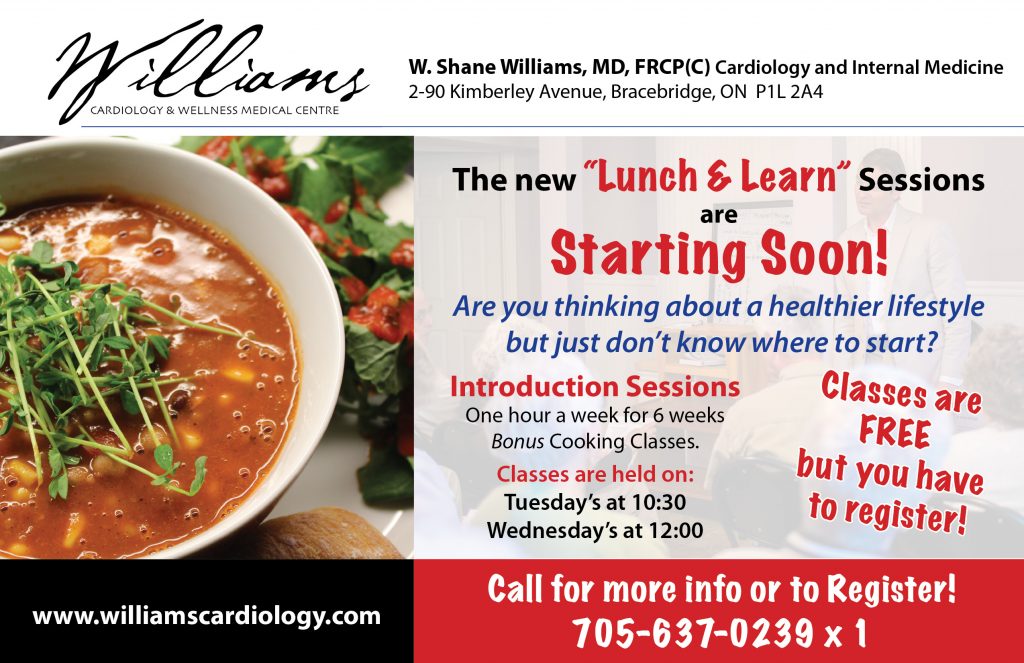 Registration is required! If you'd like to be a part of our October 22, 2018 program please call 705-637-0239, extension #1 or contact us here