Suggested Reading Material and Resources
Note: Some of these resources are available for purchase at the clinic
The China Study: The Most Comprehensive Study of Nutrition Ever Conducted and the Startling Implications for Diet, Weight Loss and Long-Term Health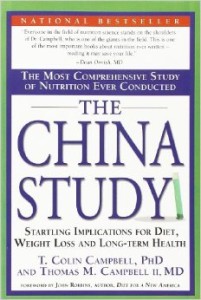 By T. Colin Campbell, Thomas M. Campbell II
The China Study Cookbook: Over 120 Whole Food, Plant-Based Recipes
By LeAnne Campbell
Forks Over Knives (2011 Film)
Starring T. Colin Campbell, Caldwell B. Esselstyn Jr., Neal Barnard, Junshi Chen, Connie B. Diekman
The Starch Solution: Eat the Foods You Love, Regain Your Health, and Lose the Weight for Good!
By John McDougall, Mary McDougall
Whole: Rethinking the Science of Nutrition
By T. Colin Campbell
Prevent and Reverse Heart Disease: The Revolutionary, Scientifically Proven, Nutrition-Based Cure
By Caldwell B. Esselstyn Jr.
Healthy Eating, Healthy World
By J. Morris Hicks
Articles & Studies
Articles on the Arrest and Reversal Study:
A Way to Prevent CAD? The Journal of Family Practice. July 2014 Vol 63, No 7 page 257
The Nutritional Reversal of Cardiovascular Disease — Fact or Fiction? Three Case Reports Experimental and Clinical Cardiology. July 2014 Vol 20 issue 7. page 1901
Is the Present Therapy for Coronary Artery Disease the Radical Mastectomy of the Twenty-First Century? The Am J Cardiol. 2010: 106: 902-904
A Strategy to Arrest and Reverse Coronary Artery Disease: A 5 -Year Longitudinal Study of a Single Physician's Practice Esselstyn CB Jr. et al: The Journal of Family Practice 1995 December; 41(6): 560-68
Updating a 12 -Year Experience With Arrest and Reversal Therapy for Coronary Heart Disease (An Overdue Requiem for Palliative Cardiology) Esselstyn CB Jr. The Am J of Cardiology 1999 August 1; 84:339-34
Resolving the Coronary Artery Disease Epidemic through Plant-Based Nutrition (with photos of disease reversal) Esselstyn CB Jr: Preventive Cardiology 2001;4: 171-177
In Cholesterol Lowering, Moderation Kills Esselstyn CB Jr. Cleve Clinic J of Med 2000 August; 67 (8): 560-564
Selected Articles:
Beyond Surgery Presidential Address Esselstyn CB Jr. Surgery Dec 1991; 110(6): 923-27
More Than Coronary Artery Disease Esselstyn CB Jr. : The Am J of Cardiology 1998 November 26; 82 (10B):5T-9T
Changing the Treatment Paradigm for Coronary Artery Disease Esselstyn CB Jr.: The Am J of Cardiology 1998 November 26; 82(10B): 1T-4T
Reflections:
Above & Beyond: A Tribute to Dr. Heather Ross University Health Network June 21, 2017
Sign of the Times: 600 Doctors Attend Conference on Plant-Based Nutrition Latest Vegan News October 21, 2015
Meet the doctor who prescribes vegan diets Well+Good December 29, 2014
How to Keep David Letterman (and yourself) Off the Operating Table
A Revolution to Restore America's Health
Huffington Post Interview with Dr. Esselstyn
The Collapse of Cardiology: A Time to Rejoice?
Olympic Reflections 50 Years Later
News and Results with Dr. Esselstyn
Williams Cardiology On The Web
Visit our Facebook Page
Follow Dr. Williams on Twitter
Patient PDF's
Sample PDF here